Candle lit vigil for the people of Ukraine 24th February 6.30pm at the Town centre memorial Hailsham
Please come together in Hailsham to show our support for the people of Ukraine. Friday 24th February it will be a year since the Russian invasion of Ukraine and a terrible cost to human life.
The people of Hailsham and Wealden District have responded magnificently so far with financial donations as well as Community and church centres helping refugees with practical matters and support.
This war is not going to end quickly and the people of Ukraine will need support now and into the future. So please come together in Hailsham to show your support .
Start gathering at 6.30pm then at 7 pm there will be a minute silence in memory of the people killed to date and the suffering of refugees. This will be followed by a minute of applause in support of those people who are still fighting in Ukraine and the displaced refugees. We are hoping to have a Ukraine national person to say a few words during the vigil.
We look forward to you being with us in this collective act of solidarity. So wear the blue and yellow of Ukraine or bring a flag, bring your jam jars and tea lights or use the torch on your smart phones to shine a beacon of light at this dark time for Ukraine.
Vigil programme
6.30pm Gather at the memorial
6.40pm Welcome by Cllr Steve Murphy
6.45 pm Address by Ukraine national refugee in Hailsham
6.50pm Prayer by Ft Ukrainian Priest ( TbC)
6.55 Prayer by Rory Graham Hailsham St Marys parish church ( TbC
7pm one minute silence followed by a minute of applause
7.02 Ukraine anthem
7.06 Closing by Cllr Paul Holbrook Hailsham Town Mayor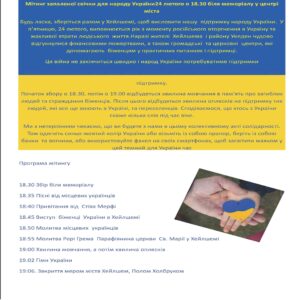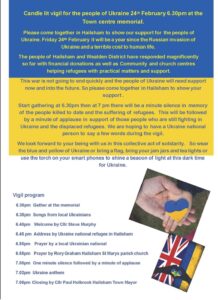 Get in touch
Address
Newhaven Enterprise Centre,
Denton Island, Newhaven,
East Sussex, BN9 9BA