English classes and training information sessions in Eastbourne for Ukrainians
TWIN language school who are based in Compton Place, Eastbourne will be attending Cafe Ukraine Saturday 18th February. They will be talking about free language classes and free training for professional qualifications. Eastbourne Job Centre work alongside TWIN to support people finding work. Private appointments will be available 10.30-12.30 email millyhclark@hotmail.com to book.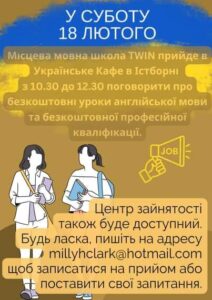 We recommend joining these sessions to inform yourself on what funding you are entitled to receive for your children and their childcare costs. BHT is there to help and support you and your family!
For more information or general support please contact us ukraine@3va.org.uk
Get in touch
Address
Newhaven Enterprise Centre,
Denton Island, Newhaven,
East Sussex, BN9 9BA