Please join Lewes for Ukraine on Friday 24th at 8pm on Cliffe Bridge in Lewes for a vigil to mark the anniversary of the war in Ukraine.
Lewes for Ukraine have been welcoming Ukrainians into the communities of Lewes town and surrounding villages for last year and shown them great support and solidarity.  On the 24th February 2023, they invite you to join them and on Cliffe Bridge, Lewes at 8p.m for a candlelit vigil to mark the 1 year anniversary of the invasion of Ukraine by Russian forces.
We will stand as a show of solidarity with our Ukrainian friends and community.
Please bring your own candles if you wish to light one.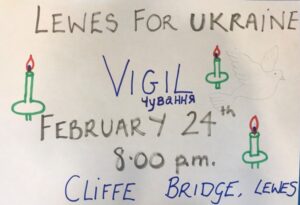 Get in touch
Address
Newhaven Enterprise Centre,
Denton Island, Newhaven,
East Sussex, BN9 9BA