East Sussex County Council has created a survey to enquire about your experience of accessing and receiving NHS services since arriving in the UK
This survey is an important opportunity for the Ukrainian community to share their experience of the NHS so far. As waiting lists can be sometimes long to be seen by NHS specialists such as dentists, or in booking an appointment with a GP, we are aware that some of you have experienced difficulties. We have also noted that many of you have reported on the success that you have encountered with the NHS. Hearing your thoughts on your medical experience in the UK so far will be highly informative for services that support the refugee community in East Sussex.
Filling in this survey will give the council a clearer image of what the exact situation is like for refugees in the county. We therefore encourage all Ukrainians to report on your experience via this survey if you wish to let the County know of the reality of experiencing the NHS as a refugee, may it positive or less so. We would like to reassure you that all information will be recorded anonymously and also that all you will share will be treated very valuably. We are grateful for all who will take the time to fill these in. This survey should only take a few minutes of your time, and it is also translated in Ukrainian.
Please click on the link below to complete the survey:
Health questionnaire for refugee health/Asylum Seekers – East Sussex – Citizen Space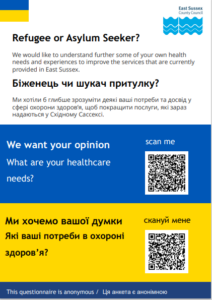 Do not hesitate to contact our 3VA Homes for Ukraine team for any more information on this or for support with the NHS on Ukraine@3va.org.uk
Get in touch
Address
Newhaven Enterprise Centre,
Denton Island, Newhaven,
East Sussex, BN9 9BA