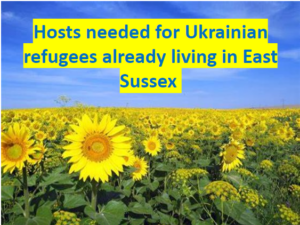 3VA are working with East Sussex County Council to help find suitable new hosts for Ukrainians that are already living in Wealden, Eastbourne and Lewes District.
Many Ukrainians are now getting to the end of their 6 months hosting arrangement with their original sponsors and are looking for new hosts. We are eager to try and help Ukrainians stay in the communities they are now settled in, especially for the children that are attending local schools. Ukrainians who have arrived in the UK often come from very difficult situations so offering a home in the area that they are now familiar with will be hugely meaningful for them. Welcoming Ukrainians in your home will make a very significant difference to their situation, and we hope that the experience will be beneficial to you too.
To be a host under the Homes for Ukraine scheme you need to:
· Be over 18y old
· Live locally and be permitted to stay in the UK for a minimum of 6 months
· Provide proof of ID such as your passport
· Provide accommodation to Ukrainians for a minimum of 6 months
· Be willing to undergo house safety and safeguarding checks & DBS checks for all adults in the property
You can read the complete Government guide on the scheme here
Locally there is an increased need for hosts who are able to accommodate small families, typically mothers with one or two children.
If you would like more information or to express your interest in hosting, please contact us via email ukraine@3va.org.uk or telephone 07784240481
Get in touch
Address
Newhaven Enterprise Centre,
Denton Island, Newhaven,
East Sussex, BN9 9BA