Sussex Mediation Alliance are hosting sessions for those in East Sussex that are hosting Ukrainians.
These online sessions provide a safe space for hosts to talk about their experiences and discuss any difficulties they are facing.
There are still spaces available for the session on Thursday 8th, 3pm-4pm. To book please email admin@mediation-plus.org.uk
More sessions will be available in the near future including sessions for Ukrainian guests.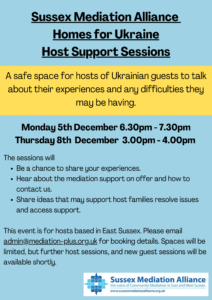 Get in touch
Address
Newhaven Enterprise Centre,
Denton Island, Newhaven,
East Sussex, BN9 9BA