Support into Work is a project to assist Refugees and Ukrainians in East Sussex with accessing employment.
When it comes to understanding the system in the UK regarding benefits, job searching, job websites, how to apply for jobs successfully and how to write a CV with the up-to-date formats and requirements to gain the most chances in getting the jobs you want, this project will help and will provide you with the support you need. Transferring skills and Ukrainian qualifications is a possibility too, as well as helping Ukrainians to get into work with employers who may need more information on the situation of the community in the UK and your rights.
Additional support is provided such as childcare funding to attend this service and interview clothes for those who are in need of extra financial support.
To access this support please email 📩 supportintowork@sussexcommunity.org.uk with your name and contact details (as the demand for this service is high, you will get a response within 10 days).
Refugees (careerseastsussex.co.uk)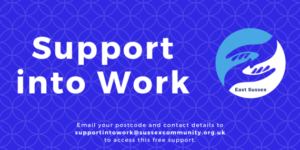 For more information on this or on work and benefits in the UK, contact ukraine@3va.org.uk
Get in touch
Address
Newhaven Enterprise Centre,
Denton Island, Newhaven,
East Sussex, BN9 9BA