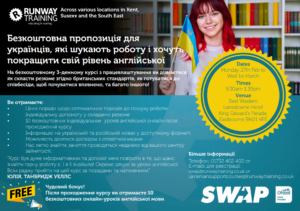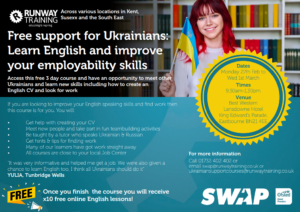 Компанія пропонує безкоштовний 3-денний курс для українців, який має на меті познайомити їх з особливостями процесу працевлаштування в Великобританії.
Протягом курсу учасники
Дізнаються, де і як шукати роботу
Отримати допомогу у написанні резюме
Дізнаються як підготуватися до співбесіди, щоб воно пройшло блискуче
Отримають інформацію про етапи інтеграції нового співробітника
Обговорять підходи до вирішення труднощів на робочому місці
Познайомляться з новими людьми та отримають натхнення діяти, незважаючи на труднощі
Інформація курсу надається українською, російською та англійською .
Після закінчення курсу учасниками надається можливість отримати 10 безкоштовних індивідуальних уроків англійської онлайн.
Our course in Eastbourne will run for 3 days,  27th February – 1st March, 10am – 1:30pm at the Best Western Lansdowne Hotel, King Edward's Parade, Eastbourne, BN21 4EE
Runway Training offers a free 3-day course for Ukrainians aimed at improving their Employability skills.
The participants will :
Get valuable advice regarding possible avenues of job search.
Get help with creating their winning CV.
Find out how to prepare for a job interview.
Learn about the induction process.
Practice problem-solving skills.
Meet new people and get inspiration from real success stories.
The information is presented in Ukrainian, Russian and English (with translation).
After completing the course all the participants get 10 free online English lessons with a tutor based on individual language needs.
Get in touch
Address
Newhaven Enterprise Centre,
Denton Island, Newhaven,
East Sussex, BN9 9BA