Organisation Press Play Films and Eat fresh and Feel Good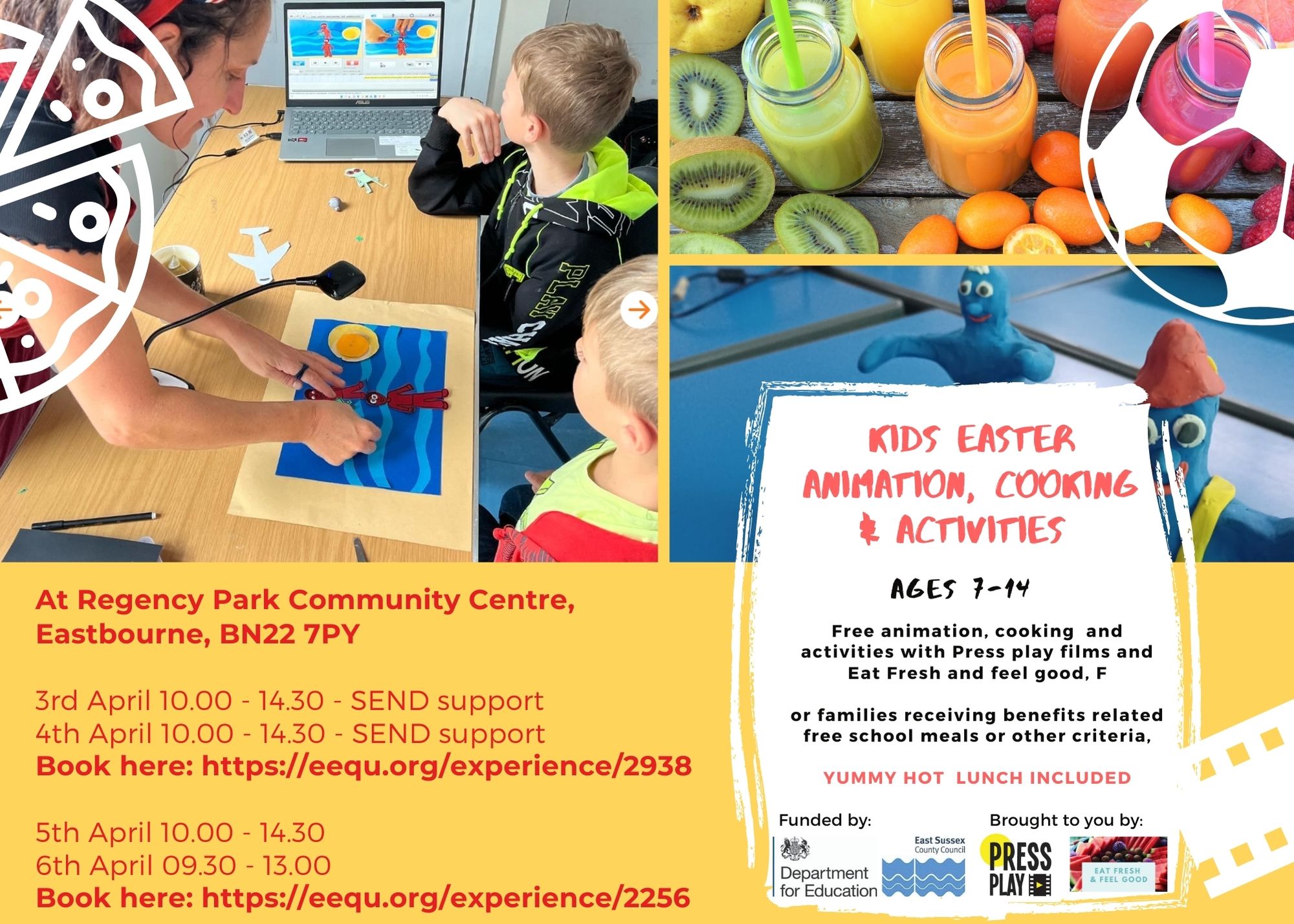 Free 1-day Easter holidays animation, cookery and activities workshops for children age 7 -14 years old, in Regency Park Community Centre Eastbourne.
Безкоштовні 1-денні сесії у Пасхільні свята для дітей віком 7-14 років із активними заняттями, кулінарними мастер класами та уроками з анімації, відбудуться у Істборн, Regency Park Community Centre.
Have you ever wanted to make your own animation film? You have come to the right place! Our workshops will teach children how to produce a storyboard, how to operate cameras, the fundamentals of composition and framing and how to use animation software to make their own films.
Чи ви мріяли колись про створення свого власного мультиплікаційного фільму? Якщо так, ви потрапите у правильне місце! На наших мастер класах діти навчаться як створювати розкадровку, як керувати камерою, основам композиції та кадрування, а також як користуватися програмою для створення власного мультиплікаційного фільму.
In addition to animation, Lucie from Eat Fresh and Feel Good will provide 20 mins of nutritious fun for children, making freshly pressed juices/shakes with seasonal fruit and veg combinations. After lunch we head out for some games and a play in the park!
Доповненням до анімації, буде 20 хвилинний розважальний урок із правил харчування від Люсі з Іжте Свіже та Почувайтеся Добре. Разом ви будете робити свіжовичавлені соки та смузі із сезонних фруктів та овочів. Після обіду ми відправимося до парку для активних розваг та ігор!
Eat Fresh will also provide a hot, yummy lunch each day. Allergies and intolerances and special diets can be catered for. Children can bring a packed lunch if preferable.
Також на кожній сесії Іжте Свіже буде годувати гарячим та смачним обідом. Алергії, харчові непереносимості та особливі дієти будуть прийняті до уваги. За бажанням діти можуть принести обід із собою.
To book a space please visit:
April 3 and 4 (with SEND support)
https://eequ.org/experience/2938
April 5 and 6 (without SEND support)
https://eequ.org/experience/2256
Задля бронювання місця, будь ласка, перейдіть за посиланням:
3 та 4 квітня (із можливістю занять для дітей із особливими потребами)
https://eequ.org/experience/2938
5 та 6 квітня
https://eequ.org/experience/2256
*Important! Please note that the days with SEND support will have additional, experienced staff on hand for children who need some extra support. We will rotate the week's activities so children are able to book onto more than 1 day if they would like. If you would like to stay with your child please book an additional space*
*Важливо! Будь ласка, візьміть до уваги, що у дні, із можливістю занять для дітей з особливими потребами, буде присутній додатковій, кваліфікований персонал, який зможе надати необхідну підтримку та допомогу дітям з особливими потребами. Ми будемо змінювати заняття протягом тижневої сесії, для того, щоби діти змогли забронювати та відвідати більше ніж одну одноденну сесію протягом святкого тижня. Якщо, ви хочете бути присутніми разом із дітьми, будь ласка, забронюйте для себе додаткове місце*
Get in touch
Address
Newhaven Enterprise Centre,
Denton Island, Newhaven,
East Sussex, BN9 9BA