Healthwatch East Sussex Annual Event – 14th July 2022, Uckfield Civic Centre
Location Lewes, Eastbourne, Wealden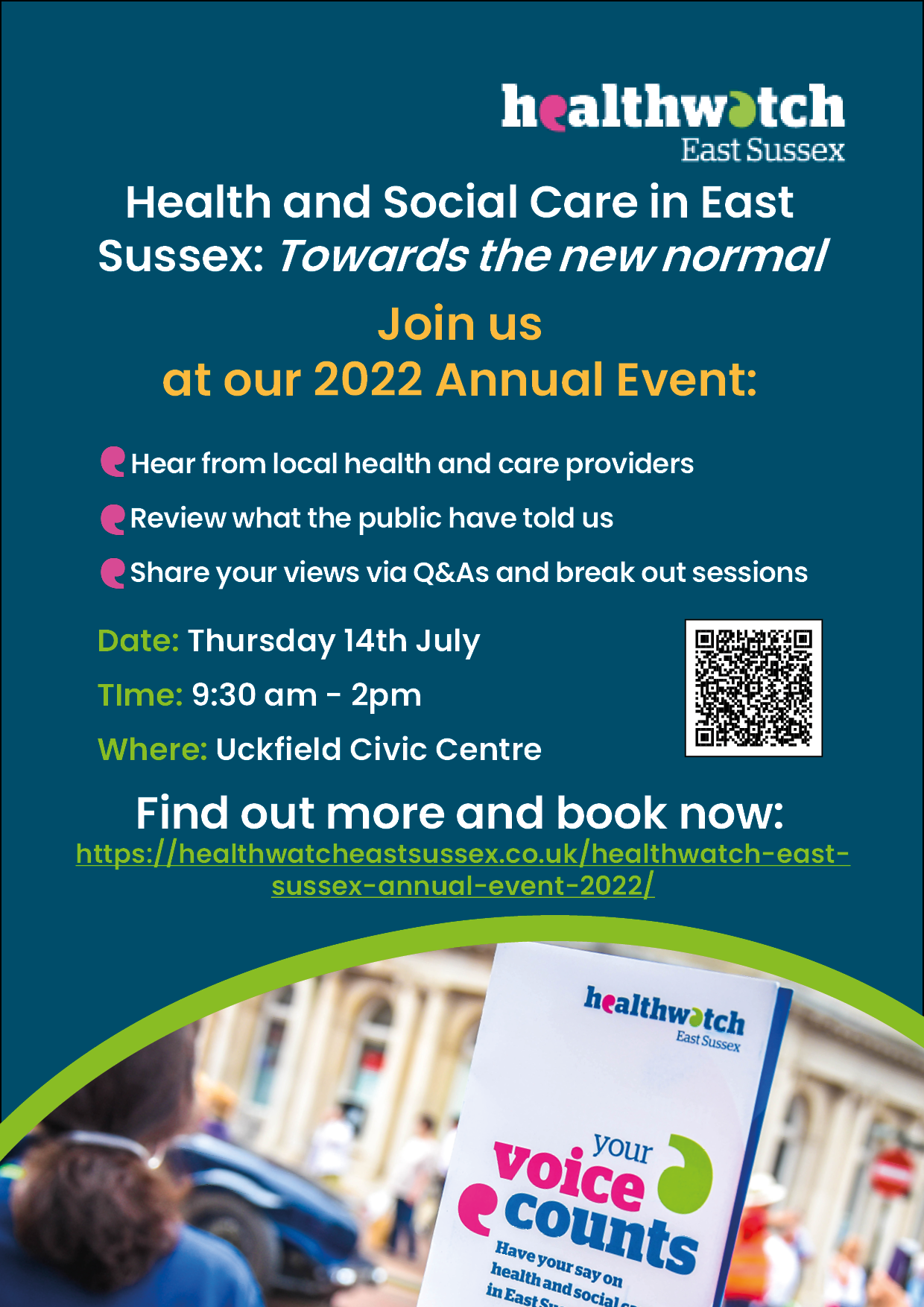 Health and Social Care in East Sussex: Towards the new normal
Health and social care services in East Sussex are changing. 2022 will see the formation of the Sussex Integrated Care System (ICS), which will commission GP, dentistry, pharmacy and other services. Similarly, hospital and care services continue to evolve in response to the COVID-19 pandemic.
Will these changes benefit the public and patients? Will they make services more responsive locally or remote?
Healthwatch East Sussex is inviting anyone with an interest in the future of
health and care to join us at our 2022 Annual Event to help co-design what
the 'new normal' for services across our county might look like.
Join us:
• as key speakers from the NHS, Local Authority and Voluntary Sector share
their perspectives on the future of local services
• we review what the public have told us over the past year
• to share your views via Q&A sessions and workshops
As services plan for the future, there has never been a more important time to
hear the voice of the local people in what those services should look like and
work with Healthwatch to influence change.
There are more questions than answers but one thing we can probably agree
on is that the COVID pandemic has changed our services forever:
• We are devoting more time and resources to living with COVID but also
changing the way we deliver all health and care services.
• More appointments are going digital and online with opportunities for in-person contact at risk of being reduced.
• Healthwatch research shows that making an appointment with your GP or
finding an NHS dentist is coming more difficult.
• Our busy hospitals need to discharge patients as soon as they are ready
but support services in the community are also under pressure.
We are living in a period of rapid change as we transition from controlling
COVID to learning to live with it.
Annual Event Programme 2022 – 14th July, Uckfield Civic Centre
1. Speakers
Confirmed speakers at the event include:
• Ashley Scarff – Deputy Managing Director of East Sussex Clinical
Commissioning Group (CCG)
• Samantha Williams – Assistant Director, Strategy, Commissioning and
Supply Management, Adult Social Care and Health, East Sussex County
Council
• Mebrak Ghebreweldi – Founder, Director & Facilitator, Diversity Resource
International (DRI)
A British Sign Language interpreter will be available.
2. Question and Answer session with the speakers.
3. Workshop session on health and care in 2022 and beyond
Questions:
• What are the greatest opportunities for making long term improvements to
our health and care?
• What are the greatest risks posed by changes to our health and care?
• What practical suggestions do you have for making improvements to our
health and care over the next year?
• What should HWES priorities be over the next 12 months and beyond?
4. Wrap-up discussion and next steps
5. Lunch and refreshments
Book your place
Bookings for the event are via Eventbrite, and you can book a place by
clicking on the link below and following the instructions:
Please note that places are limited and will be provided on a first-come-first
served basis. The deadline for booking places is midnight on Sunday 10th July
2022.
For further information
If you have any questions about the event please contact Sue Wells via
Susan.Wells@escv.org.uk or 07794 097713
Get in touch
Address
Newhaven Enterprise Centre,
Denton Island, Newhaven,
East Sussex, BN9 9BA